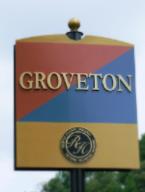 Groveton is a small unincorporated community, which falls within the Franconia District (renamed from Lee District) and the Mount Vernon District of Fairfax County, Virginia. The mailing address is Alexandria Va and the county is Fairfax County. It is about 3 miles south of Old Town Alexandria on Route 1 (Richmond Highway) and 3.6 miles north of Mount Vernon. Groveton is an estimated .8 miles along the Route 1 corridor but nonetheless it contains a rich history. There are several other historic communities from Alexandria to Mount Vernon, such as Penn Daw, Spring Bank, Hybla Valley, Gum Springs, Engleside and Woodlawn. There are 5 subdivisions within the Groveton community: Groveton Heights, Valley View, Memorial Heights, Bucknell Heights and White Oaks.

Within the Groveton community, there are several homeowners' associations (i.e. Huntley Meadows Home Owners' Association) and 4 civic (or citizen) associations: Groveton (GCA), Memorial Heights, Bucknell Heights, and White Oaks.
The parks in Groveton include Lenclair/BlackJack Dog Park, Groveton Heights and Huntley Meadows.
New Groveton residents - should review the Fairfax County's newcomer's guide on the Fairfax County website.