The following information has been obtained from the Fairfax County Historic Society, U.S. Federal Census, Land Records, Wills, Cemeteries and Historical references. The information is presented as accurate as possible and as clarifications and/or corrections are found, the information will be updated. Landmarks are noted in bold with hyperlinks and/or pictures.
In the 1790s, Sampson Darrell (son of William and Ann Fowke (Mason) Darrell) was a Fairfax County Justice and owned the land that is now referred to as Groveton.
Two of Sampson and Mary Darrell's children remained in the "Groveton" area.
Sampson and Mary's son, William Darrell who had married Rachel Brooke (daughter of Thomas Brooke V and granddaughter of Thomas Brooke IV and Judith Briscoe) had inherited the land at the top of the hill on Route 1 where the 3212 Arundel Ave. farmhouse is located along with the Darrell Spring to the west side of Route 1.
Sampson and Mary's daughter, Ann Darrell) who had married Commodore Walter Brooke (son of Thomas Brooke IV and Sarah Taliaferro Mason, his 2nd wife) and was living at "Retirement" (now known as Stone Mansion in StoneyBrooke). Walter Brooke was the first cousin of George Mason and commander of the Virginia naval forces in 1777. The picture is BEFORE the owners turned "Retirement" into the house we know in Stoney Brooke.
Samuel Collard Jr. (son of Samuel and Agnes (Ouchterloney) Collard) married Rachel (Brooke) Darrell. Rachel was the widow of William Darrell. Samuel and Rachel lived on her land, which was handed down by her grandfather, Sampson Darrell to his heirs, which included the mansion home, and Darrell's Spring. Through several purchases of land, Samuel increased his acreage.
The Lamond property now renamed Gilbert S. McCutcheon Park at Fort Hunt (existing Landmark), the property surrounding what is now known as Penn Daw and Beacon were originally bequeathed to William Darrell, and upon Samuel's marriage to Rachel Samuel acquired the land. In 1831, he gave one of his sons, John Ricketts 107 acres off of Popkins Lane. Samuel was the guardian of Rachel's 4 young sons: Walter S., Sampson, William S. and Clement B. Darrell. Samuel and Rachel had 3 known children: Elizabeth S. "Eliza" Collard, John Ricketts Collard, and James J Collard.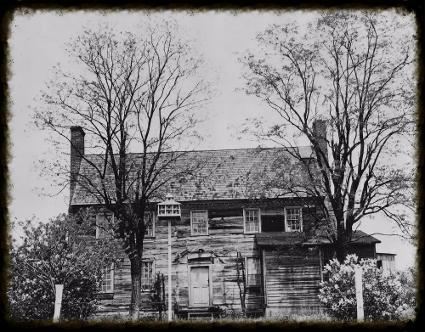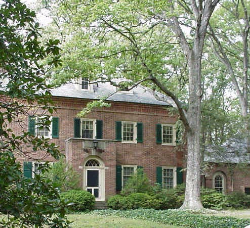 Upon Rachel (Brooke Darrell) Collard's death, Samuel advertised his home on the west side of what is now called Route 1 as "Mount Pleasant," a 270-acre farm, for rent in the Alexandria Gazette as being located on the Mount Vernon Road three miles from Alexandria. There was a large apple orchard, springs and a six-room dwelling house with a good cellar. "On an elevated situation and there is a fine view of the Potomac." In 1847, Samuel's will stated " the graveyard at the farm on which I reside and which is an old family burying place, about one-fourth acre, is to be kept forever, never to be conveyed under any circumstances." Upon Samuel Collard's death, a 1812 War Vet,was buried at the family cemetery on 3212 Arundel Avenue. The land was left to his daughter, Eliza and his son, John Ricketts. In 1859, John Ricketts offered the Groveton farm for sale, which had 160 acres, with a good dwelling, stable, corn house, and smoke house. [Note: this is the 1st reference to Groveton Farm although it is later referred to as "Sparrow Hill" off of Popkins Lane.] John Ricketts now owned the property called "Retirement" which is currently the "Stone Mansion" at Stoneybrooke.
John Ricketts Collard was married to Stacia Ann Millan, daughter of James and Susannah (Cash) Millan and granddaughter of Thomas and Elizabeth (Shedd) Millan. John's sister, Elizabeth "Eliza" Collard married Phineas Sullivan Whitney with no known children. Phineas Sullivan Whitney is buried in the family cemetery on 3212 Arundel Ave. Eliza remarried George Collard (relationship has not been determined) and moved to Washington DC. Both John Ricketts and Stacia Ann (Millan) Collard and Eliza (Collard Whitney) Collard were buried in the family cemetery on 3212 Arundel Ave.
John Ricketts and Stacia Ann (Millan) Collard had 6 known children. Elizabeth S., Virginia, Mary, Rachel E., J. Samuel and Hellen. Elizabeth S. married Bernard Kerby (son of George W. and Margaret (Norfolk) Kerby) from Prince George's, Maryland. They had 2 children and upon Elizabeth's death, Bernard married her sister, Mary Collard with 1 known daughter. Upon Stacia's (their mother) death, Virginia, J. Samuel and Hellen moved from "Mount Pleasant" to "Retirement" and sold the properties to their brother-in-law, James Owen Kerby who had married Rachel E. (their sister). James Owen Kerby was also the son of George W. and Margaret (Norfolk) Kerby and brother of Bernard Kerby from Prince George's, Maryland. J. Samuel, Hellen and Virginia were buried at Ivy Hill Cemetery, Alexandria, Virginia.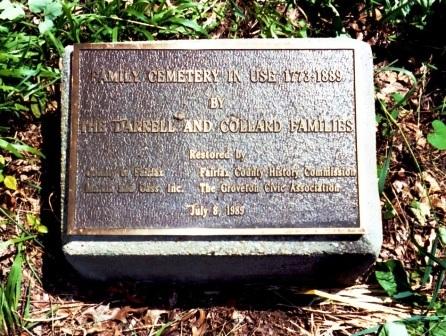 James Owen Kerby (a Justice of the Peace in Alexandria, Virginia) remained in Groveton and would occasionally officiate the jousting tournaments held in the Groveton neighborhood. In 1874, "J. Owen Kerby, Esquire, delivered the coronation address with greatly admired skill and eloquence" when the maids of honor were crowned at the Pohick tournament. The following month young Sam Collard won third place in the jousting, choosing Miss Fannie Barton (daughter of Benjamin and Elizabeth Barton) as one of the maids of honor. James Owen Kerby and family entertained Groveton families and the seminarians who began Bible studies at the Groveton schoolhouse (now known as St. Louis Chapel). Eventually, the name of Darrell's Spring became known as "Kerby Spring", which is located south of the 3212 Arundel farmhouse. [Spring Drive in the Valley View Subdivision was named after this spring that is part of the Chesapeake Watershed.]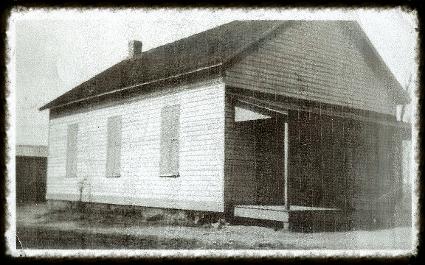 James Owen "Squire" and Rachel B. (Collard) Kerby had 8 known children: Eliza, Virginia, William, Nellie, Elsie, Margaret, Arthur and Malcom.
Virginia married an Irish stonecutter named M. Joseph Griffin with 1 known daughter and they lived at "Mount Pleasant" for a time.
Nellie May Kerby married John Scott West.
Elsie married Thomas A. McKeown (son of Matthew and Mary Ellen (Simpson) McKeown). Matthew McKeown (arrived in America in 1847 from Ireland) married Mary Ellen Simpson (daughter of Joseph Simpson and Mary Ellen Hampton). They had 7 known children: Thomas, James, Matthew, John, Robert, Mary, and George. Son Robert married Sarah Rebecca Bowie "Sadie," George married Leann Smallwood (daughter of William and Sarah Smallwood). The McKeown family lived in the area between what is now known as Holly Hill Road and Lockheed Blvd.
Margaret married John C. Winterwept.
Arthur married Mattie L. (Pickett) Moore, George Kerfoot Pickett's daughter (her second marriage). Mattie, had 2 children from her 1st marriage to John H. Moore: Rebecca and Mildred. Arthur was one of Fairfax County's magistrates and Mattie was a schoolteacher and principal at Groveton School and lived at the farmhouse on 3212 Arundel Ave.
The house burned down on Jan 1916 and was rebuilt.
Arthur and Mattie (Pickett Moore) Kerby and Malcolm and his wife were buried at Ivy Hill Cemetery, Kings Street, Alexandria Virginia.
James Owen and Rachel B. (Collard) Kerby were buried at Woodlawn Baptist Church Cemetery, 9001 Richmond Highway, Ft. Belvoir, Va.
The 2008 farmhouse on 3212 Arundel Ave.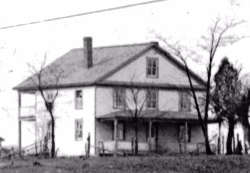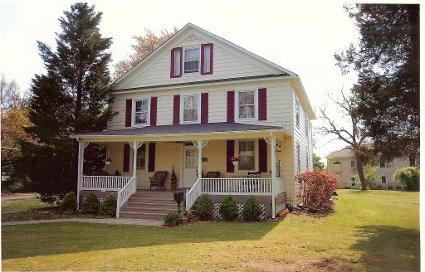 In 1848, Benjamin Barton and wife, Elizabeth purchased a tract of land, 3 miles south of City of Alexandria and called it "City View" in the Groveton area. They had 10 known children. One daughter, Fannie was married to Rev. S. J. Betts at the original "City View" (aka City View I). One daughter, Lillie Constance married Franklin Pierce Reid (son of William Sims and Stacia V. (Smith) Reid from Franconia). In 1882, Franklin and Lillie C. (Barton) Reid lived at "Fairview" on what is now known as "Franklin Street." (Originally, Fairview was several hundred acres and owned by Sampson Darrell, which was bequeathed to William Darrell, and upon Samuel Collard's marriage to Rachel (Brooke) Darrell, Samuel owned the property. Upon Samuel's death, his son, John Ricketts Collard owned the property and sold it to Samuel Gillingham, a Pennsylvanian Quaker). Franklin and Lillie's son, William Franklin Pierce Reid, Sr. married Sallie Kerfoot Pickett (daughter of George K. and Mary Lewis (Smith) Pickett from Fauquier, Virginia and sister of Mattie who married Arthur Day Kerby) and lived at "City View". It is the acreage north of the Collard/Kerby land and south of what is now known as Penn Daw that belonged to the Reid legacy and eventually known as Beacon Air Field. The Beacon Air Field website has more on the legacy of the Reid family and the air field.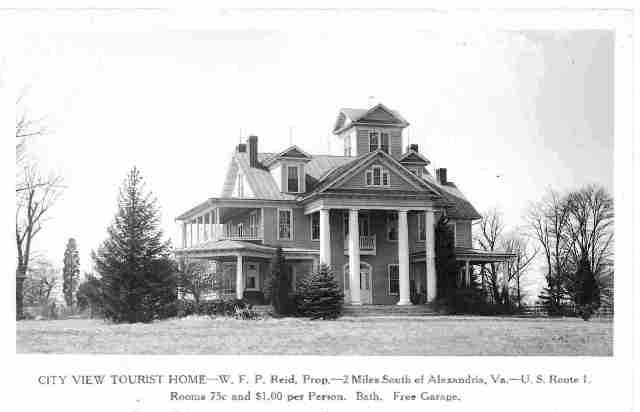 Emma Galena Palmer married Samuel "Sam" Franklin Griffin in North Carolina in 1901. Sam died in 1918 due to tetanus leaving Emma, a thirty-six year old widow with five children. Emma with the three youngest children (Alice, Arthur Pritchard "Pid" and Charlotte) left NC sometime after January 1920 and moved to Alexandria Virginia. According to the 1926 Alexandria Directory, Emma was the proprietor of the Dixie Pig sandwich shop located at 911 North Washington Street which faced Powhatan Street. The Dixie Pig was originally owned by Lonnie Waldrop who also had a Dixie Pig Restaurant in Maryland. According to Benjamin Franklin Griffin Jr. (grandson of Emma), Lonnie sold the Alexandria restaurant to Emma for $100 although the land was leased from the Kaus family. It is hard to image that in the next 55 years, the Griffin family would owned and operated at least six Dixie Pig restaurants in the area.
In 1947, Benjamin Franklin Sr and his wife Helen, along with Harry and Minnie Holt leased the Starlight Grill on the corner of Route 1 and Beacon Hill Road for three years. On Feb 15, 1947, the Dixie Pig Restaurant officially opened as depicted in this picture. Their business took in less than $15.00 the first night. Their son BF Jr. ran the curb service from his chair located to the right of the building in the picture. When a car pulled up, he would take the order and bring the food out to the customer. His father paid him $3.00 a night plus tips, which was more than he made at his first job at IBM. Benjamin's sister, Alice Griffin and her husband George Herman Robinson had built a home, Barbeque eatery and trailer park at the Belle Haven Marina. By 1946, U.S. National Park Service had removed all commercial businesses off the George Washington Parkway and the Robinsons went back to work at the Dixie Pig at intersection of Powhatan Street and Bashford Lane in Alexandria.
By 1952, Benjamin Franklin Griffin Sr. and his wife, Helen Bishop Griffin were sole proprietors of the Dixie Pig. They remodeled the entire restaurant and expanded the dining room to handle up to 150 customers. The parking was expanded to allow up to 100 cars. The day manager was Emmett Eugene "Gene" Mason and the night manager was Helen's sister Mary (Bishop) Finks, wife of Fairfax County Traffic Officer Louis Loranzo Finks. The Griffins employed many high school students to clean and help around the restaurant, such as Ed "Brother" Trice, Warren Seymour and Larry Bennett. This restaurant became one of the neighborhood gathering places and landmarks in Groveton. They served the best barbeque on warm square-shaped buns with southern-style cole slaw with or without the "secret" hot sauce. It was the home of the trademarked dancing pig and vibrant art deco lettered sign.